---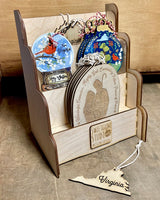 Wooden countertop display with 3 shelves.
The shelf pockets are just 1-1/2" deep. Length of each shelf is about 7" wide.
Overall Size: 7-3/4"w x 9-1/2"h x 5-1/2"d.

Display is branded with "Sweetgum Studio, sweetgumstudio.net" unless noted otherwise.
Displays size and wood grain may vary as they are made individually to order.

No product comes with display. All product to fill display is sold separately.