---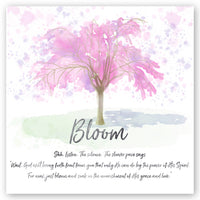 Shh. Listen. The silence. The slower pace says "Wait. God will bring forth fruit from you that only He can do by the power of His Spirit. For now, just bloom and soak in the nourishment of His grace and love."
- words by Sarah B. Brasington
Cherry tree art illustration by Tiffany H. Youngblood
Watercolor art print. Paper is 140lb Cranson watercolor paper.